Room Treatments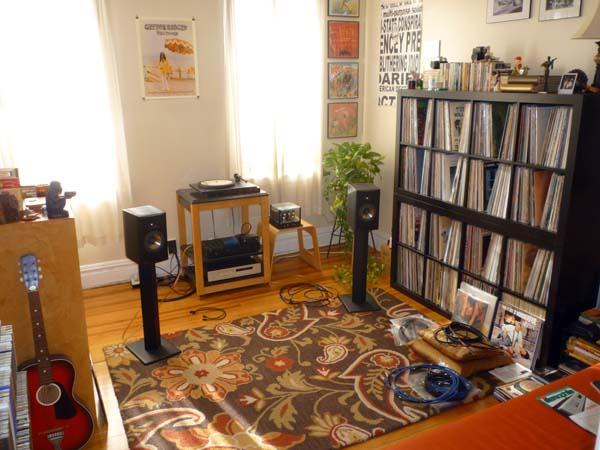 I'd like to give you a tour of my listening room. Please excuse the mess. I've been evaluating cables.
Because all the new LPs had started to take over the apartment, I was forced to do some rearranging. Over the last couple of weekends, I've managed to shape some order into my listening room. And order is very important to me. When my home is messy, my soul feels messy; and, when my soul feels messy, I become grouchy, lethargic, and I can't get anything done.
A couple of other things have inspired this post. First, recent visits to friends' warm and lovely apartments had me feeling like I'd neglected my own home. I want to invite these friends over, but, before I do, I have to feel sure that my home would feel comfortable and inviting, would speak from the walls, would have stories to share. Second, this recent post on Michael Lavorgna's Twittering Machines was extremely fascinating and fun.
So, let me show you around.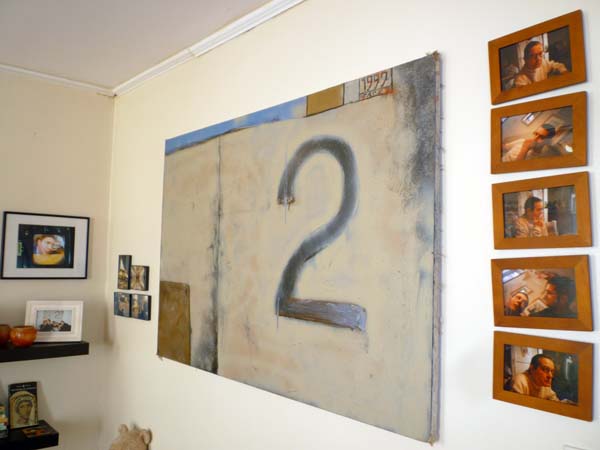 A Big Number 2
During college, Todd squatted in an old, abandoned house called The Maples. It previously held the main offices and classrooms of the school's art department. Prior to that, it was a funeral home. We spent many, many days and nights in the quiet, mysterious Maples, and we were certain that the place was teeming with spirits. In one room, we found several old paintings, abandoned or forgotten by earlier generations of art students. Todd claimed these paintings as his own, and painted over them, creating something new. This big number 2 is one example of Todd's mischief and creativity. I've carried it around with me, from home to home, for over a decade.
To the right of the big number 2 are five photographs that I took one Sunday morning while sitting around the kitchen table at Pete and Fuzzy's parents' house. Those Sundays were my favorites.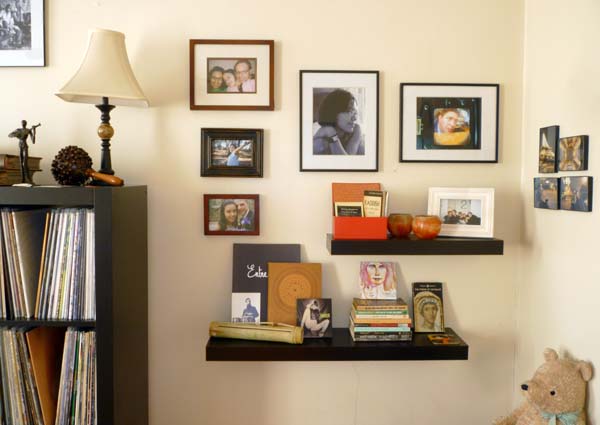 Portraits and Shelves
Pictures of my sisters, my brother-in-law, my uncle; books of dirty love poems: Catullus, Ginsberg, Bollano; gifts from friends. The white frame holds a picture of Michelle, Fuzzy, Pete, Todd, and me, all sitting on a couch, in an old apartment in Lyndhurst, while the big number 2 watches over us. To the right are four small photographs of Pete and Jenn staring up into the guts of the Eiffel Tower; I shot those photos with my old Lomo, which served me very well for several years. The red candle holders are handmade gifts from Jenn; the stringed instrument is a gift from Natalie. I purchased the naughty Tanger CD at a shop in Paris, many years ago, on a quiet, sunny day; I purchased the Noveller CD at Other Music, much more recently, on a loud, dark evening. Winnie-the-Pooh.
Darkness & Light
Darkness on the Edge of Town, a gift from my mom; Los Jardineros, a gift from Robert. Words by John Fahey, Richard Brautigan, Knut Hamsun, and Henry Miller. My RadioShack analog sound level meter. Coasters purchased from a street vendor in Paris.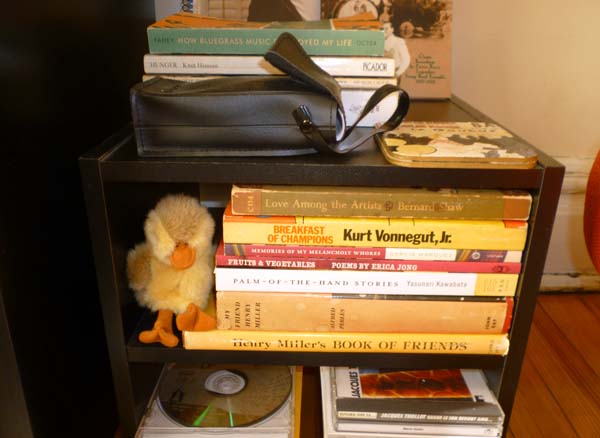 Fruits & Vegetables
A little duck. Pretty books: Love Among the Artists, Breakfast of Champions, Memories of My Melancholy Whores, Fruits & Vegetables, Palm-of-the-Hand Stories, My Friend Henry Miller, Henry Miller's Book of Friends. That Jacques Thollot CD is extremely awesome; beneath it, Mark Hollis.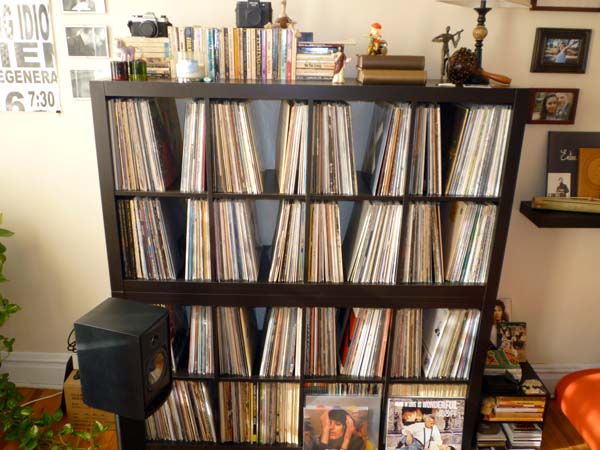 Room to Grow
I keep my LPs in these Ikea Expedit units. Misnamed as "bookshelves," they are actually perfect for LPs. The loudspeaker is a PSB Alpha B1.
UPDATE: These shelves are now totally full.
2/03/12
Gentle Reminders
Cables, cables, cables; Girls: "Hellhole Ratrace"; Jimmy Scott: Falling in Love is Wonderful, a gentle reminder.
Guitarist
I used to play guitar much more than I do today. This particular guitarist is a gift from my mom and sisters. The Chinese fortune reads: Your mind is filled with new ideas. The Polaroid was taken by Nicole, during a Halloween party at a bar in Montclair, I believe. Behind the Polaroid is a handmade Puerto Rican chekere, a gift from my sister. Photo albums, filled with sad and wonderful memories. A little Dutch boy on a tricycle, a gift I never gave to Melissa.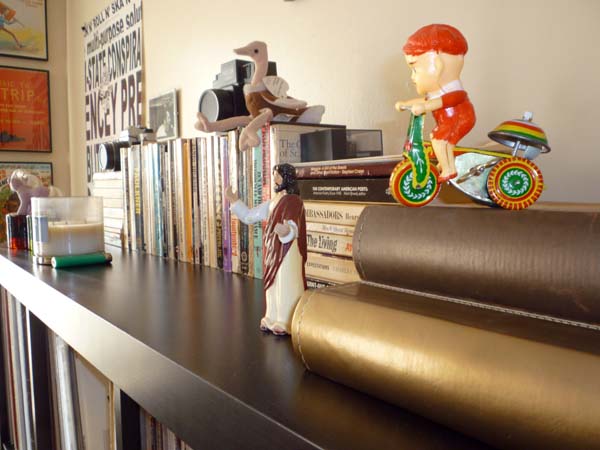 Little Plastic Jesus, Little Plush Ostrich
Jesus watches over me. The ostrich watches over Jesus, a gift from Nicole.
The Man Who Died
My Pentax K1000: I bought this perfect camera from a junkie for $50 and I took it with me everywhere I went. Paperbacks; a Holga; candle holders; a purple unicorn (how did you know?), a gift from a special fan of our old band, the Multi-Purpose Solution.
Rock and Roll and Ska and Soul
One of our old concert posters, designed by Pete, for a show at Hartley's on the Belleville Pike in North Arlington. Concert photos taken by Nicole during a show at the Melody Bar in New Brunswick, the night we were kicked off the stage.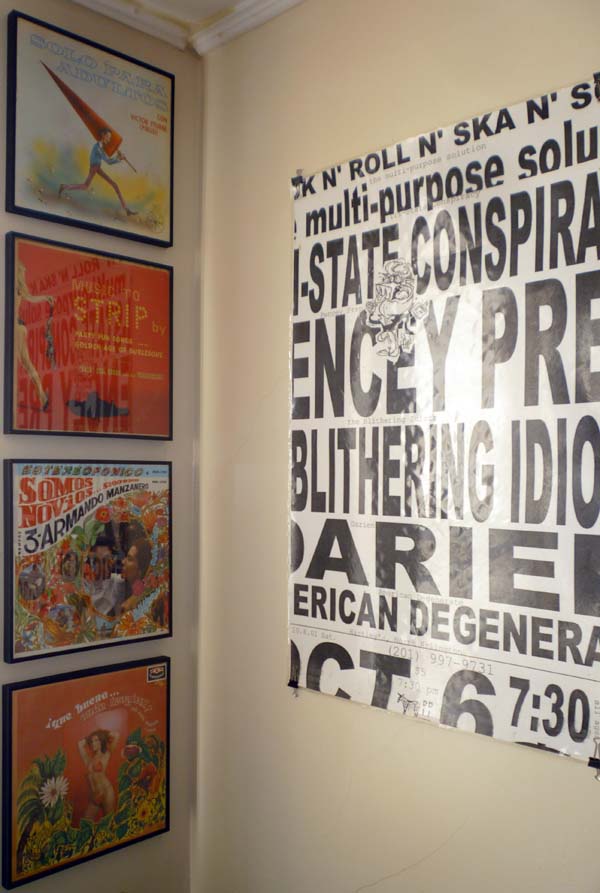 Music to Strip By
Music to Strip By was saved by Kristen from an old home in Newark and offered to me; the others I found at Iris Records on Brunswick Street in Jersey City.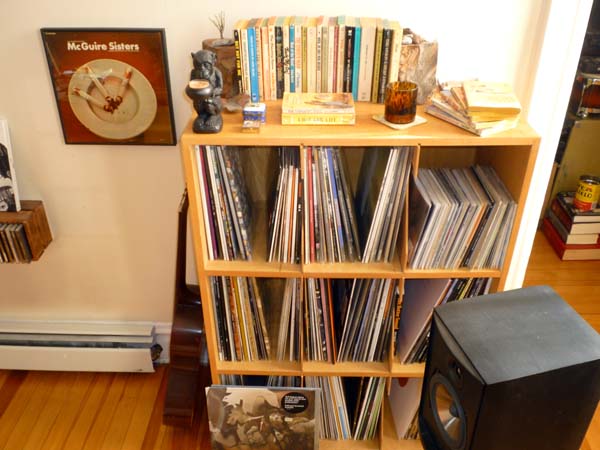 More Records
I bought this little LP case from the Gothic Cabinet Company, near Journal Square, in Jersey City; I stained it myself.
UPDATE: These shelves are now totally full.
2/03/12
Memory Holders
The monkey holds a tea light. I found the tree stump bookends at a junk store on Newark Avenue; they hold my colorful paperbacks. The large pillbox was a gift from a girl; the small pillbox was a gift from a different girl. The rocks and shells were gifts from someone dear. The little wood chip guarantees me a free drink from 2A, a bar on the corner of Second Avenue and Avenue A, where I've left many different memories. A candle holder, pulp, Turn Me On, Lust for Life.
The Wicked Walk on Every Side
I used to collect these sorts of books. Because I like silly, sexy things. "She liked being unfaithful to her husband," says The Bed Sharers. "Trading beds was just an experiment at first. Then these young couples became addicted to it." The matchbook comes from Great Jones Café; the harmonica comes from Uncle Denny.
Love Is
I walked into LITM one day, and there it was, on the far back wall at the end of the room. The original was painted on four enormous wood blocks, and, though I usually dislike mixing paint and words, this piece immediately drew me in. I bought the print from the artist, Jesse Wright. He came into my apartment to help me hang it. I remember handing him the money, which seemed far too little for something so great.
The McGuire Sisters
Also saved by Kristen, my sweet and mischievous hunter, from that same old home in Newark. I sent her a text with an image and the words: "The McGuire Sisters found a place between a monkey and Bruce." And she thought that was just perfect, as though it had been there for years.
Colors
The pictures of Pete and the fateful microphone were taken by Nicole; the larger photographs, with the beautiful light and shade, were shot and mounted by Kelli; the illustration is by Andrea.
Sometimes Holds a Flower
Omar gave me these CD racks, and we hung them together. Diane Cluck, John Fahey, Nick Cave, Joanna Newsom, Alvarius B., Sonic Youth, The Magnetic Fields, Bruce Springsteen. The little black vase sometimes holds a flower. The little neon-green monkey came from a cocktail at Otto's Shrunken Head. The little blue bird chirps like mad upon detecting motion. "Honey to Ashes" is a book of tiny paintings by Amy Wilson.
Like Tobacco and Rust
I purchased this little red guitar for five dollars from a sidewalk sale at the beautiful, old church on the corner of Jersey and Fourth. It smells like tobacco and rust, and it's nearly impossible to play.
Little Red V
My mom gave this to me; I own a real one just like it. Pete's dad makes a face.
Sweet Spot
When listening to music on the hi-fi, I sit directly beneath the big 2. It's where the sound, the view, and everything else is best.