The Entry Level #2
It's an early Sunday morning in Jersey City, and I'm sitting on the old orange couch, keeping myself warm with a cup of coffee, wondering which record to play next. The mellow fall sun is peeking through my white cotton curtains, casting happy shadows throughout my listening room.
It's been a couple of hours since I dismantled my hi-fi. The Rega P3-24 turntable now rests quietly on my bedroom dresser. Beside it are the DeVore Fidelity Gibbon 3 loudspeakers. The Exposure 2010S integrated amplifier is vacationing in my Uncle Omar's system. The Furutech Evolution cables and interconnects are neatly coiled and tucked away under the couch. For a few nervous moments earlier today, all that remained of my system was its silent skeleton: the sand-filled Target speaker stands, the Polycrystal equipment rack, the Furutech e-TP60 power distributor and GTX wall receptacle.
Altogether, that old system cost about $8000. It took me five years to put it together, five minutes to take it apart, and another 15 minutes to replace it. The system residing here now costs just around $1500—five times less than its predecessor. Of course, I was afraid that moving from my familiar hi-fi to one costing so much less would pose some problems. I was worried. Had I moved so far from my modest boom-box beginnings that trading down to a $1500 system would leave me feeling cold and uninspired?
My fears were eased as soon as I unpacked the first brown box.
The thrill of uncertainty and expectation that comes with unpacking any new piece of audio equipment is not unlike tearing through wrapping paper on Christmas Day, and this Sunday morning I experienced that thrill over and over again. Although my hopes were high, I was never disappointed. I began with the Wharfedale Diamond 10.1 speakers ($350/pair, footnote 1). They were securely packed inside their outer box, and removing them from their polythene bags was like drawing back heavy curtains on a brilliantly bright day. These speakers are gorgeous. I first noticed their quilted vinyl finish—so fine I initially mistook it for real rosewood. The cabinets, which measure about 11.75" H by 7.5" W by 10.75" D, are gracefully curved, widening at the center and tapering toward the rear, to both minimize internal standing waves and enhance the speakers' fine appearance. The four vertically oriented speaker terminals are good quality—not cheap plastic but gold-plated metal, probably brass—and can accommodate biwiring or biamping. Side by side above them are two reflex ports, which increase bass extension. Grilles of black fabric protect the Diamond 10.1's soft-dome tweeter and Kevlar mid/bass cone, but you'll want to remove these to reveal the piano-black front baffles—a surprisingly fine touch that gives the speakers an air of luxury uncommon at this price.
Holy shit, I said to the pigeons that had gathered on my fire escape to bathe in the mellow morning sun. Holy shit. I was impressed.
More than impressed, I was already falling in love. Damn, maybe John DeVore is right—maybe I do fall in love too soon. But falling in love is so easy to do when someone—I mean something—is as pretty as this. If these speakers sound half as good as they look, I thought, I'll definitely want to keep them.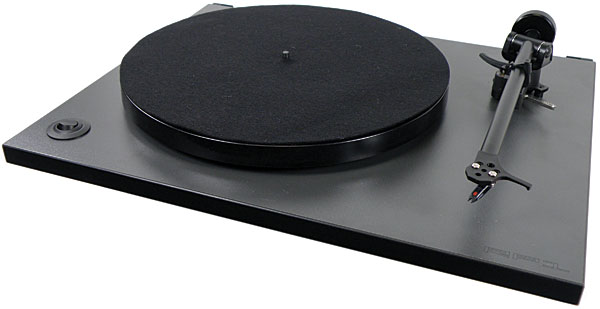 Similar thoughts ran through my excited mind as I unpacked Rega's new RP-1 (for Rega Planar One) turntable ($450), which replaces the company's esteemed P1. While the RP-1 uses the same phono cartridge as the P1, Ortofon's OM5e moving-magnet, it replaces its predecessor's MDF platter with one of phenolic resin, and adds Rega's new, solidly built RB101 tonearm. Additionally, the P1's rather drab gray finish is left behind for the RP-1's choice of White, Cool Gray, or Titanium. I'd chosen Titanium, which this morning turns out to be more of a subtly metallic silver than the reflective gloss I had imagined, but is nonetheless very cool. A clear dustcover is included, but I immediately ditched it, along with the Wharfedales' grillecloths. (I prefer the look and sound of my Rega when its cover gathers dust in a closet.)
Close inspections of the Rega RP-1 and Wharfedale Diamond 10.1s revealed some flaws in their finishes—minor rough spots near the edges—but at these prices, I can overlook such tiny imperfections. The RP-1 is stripped down to a turntable's barest elements, and resembles other Regas—the earlier P1 through my own P3-24 come to mind—in size and shape, measuring about 17" W by 4" H by 14.5" D. Nothing is wasted in the Rega. The Rega is designed and manufactured in the UK; the Wharfedales are "designed and engineered" in the UK, but manufactured in China.
---
Footnote 1: Robert J. Reina reviewed the earlier Diamond 9.1 in
November 2005
.