Road Trip!
Illustration: Jeff Wong
John Atkinson and I were On the Road, whistling down I-95 in a big, Kona Blue Metallic 2011 Ford Edge Ltd with voice-command everything. To paraphrase Raoul Duke at the very beginning of Hunter S. Thompson's Fear and Loathing in Las Vegas, we were somewhere around Princeton, New Jersey—not quite the edge of the desert—when the drugs began to take hold. Just as in the original text, "there was a terrible roar all around us, and the sky was full of what looked like huge bats, all swooping and screeching and diving around the car . . ." I decided that there was no point in mentioning the bats to JA. He'd bought the Criterion Collection DVD of Terry Gilliam's film version of Fear and Loathing at Princeton Record Exchange. He knew about the bats.
I snapped back to reality. After all, I was driving. A row of alarmingly red heads-up LEDs went off as the rapid beating of a sonar-like sound alerted me that something was amiss. A pig of a rig had pulled out right in front of us. I'd expected the Edge's collision-avoidance radar system to slow us down—rapidly—and then for the adaptive cruise control to maintain a preset gap from the truck in front. When he was driving, John would set the cruise control a couple of miles per hour faster than a speeding car ahead, then set the gap at three or four bars on the display so that the Ford's radar would lock it around 10 car lengths behind the "rabbit" ahead; I always set the gap to one bar, the closest distance. But this time, I'd inadvertently thumbed the radar off. Fortunately, my lightning-fast reflexes, which most resemble those of a Formula One driver, kicked in. I stood on the powerful brakes and hauled our (m)asses down to avoid contact. From that point on, JA referred to the event as his "brown-trousers moment." As in: "A good thing I'm wearing my brown trousers, Jonathan."
How had John and I wound up barreling down the highway in a tricked-out Ford Edge, destination the University of the South, in Sewanee, Tennessee? Well, that's where the high-profile William Ralston Listening Library and Archive awaited our audition. No ordinary listening facility, it has a custom-built room with Wilson Audio Alexandria speakers, Ayre Acoustics electronics, three turntables . . . I could go on. Actually, I will go on. But first, hang on . . .
A few months ago, Editor Atkinson rumbled that he had an idea up his sleeve: a road trip to Atlanta for the 2010 CEDIA Expo in a fully loaded Ford Edge Ltd, with stops along the way. I thought about bats for a moment, then nodded vigorous assent. Assistant Editor Stephen Mejias would join us for the first leg of the drive, from Manhattan to New Jersey's Princeton Record Exchange, where we'd meet up with vinyl aficionado and occasional Stereophile contributor Michael Lavorgna. After a bite at Princeton's Triumph Brewing Company, Stephen would take the train back to Manhattan, and JA and yrs trly would set out for the horizon, entertained by the impressive and enveloping, voice-activated Sony sound system. "Play Annie Lennox," John marveled. And it did!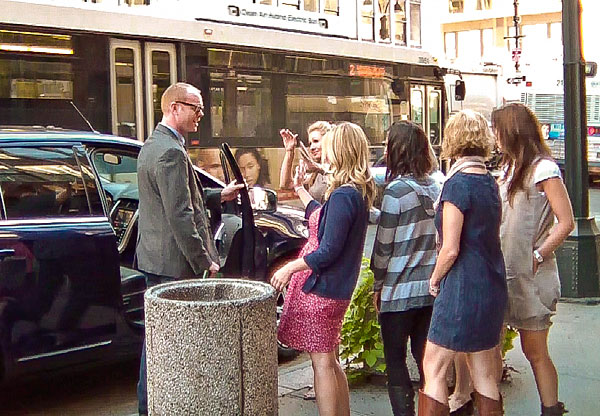 We hit our marks on the appointed day. I pulled up to Stereophile's Madison Avenue offices and Stephen Mejias was escorted to the Edge by a bevy of beauties from Soap Opera Weekly, with whom the magazine shares a floor. JA captured it all on video, feeling somewhat . . . senior. It occurs to me that JA and I are the same age.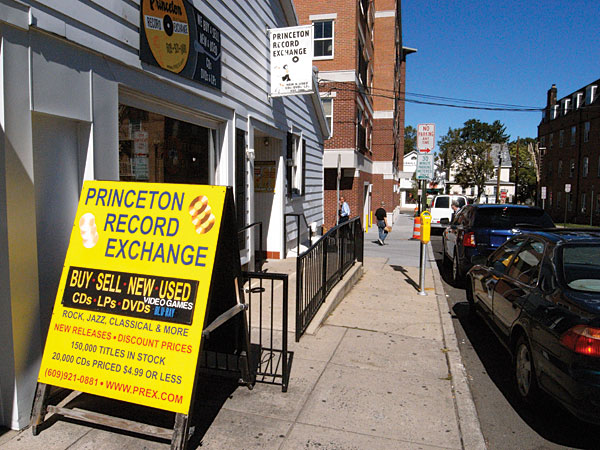 PREX
Princeton Record Exchange was its usual vinyl-treasure-trove self. Stephen picked up Harry Nilsson's A Little Touch of Schmilsson in the Night and Merle Haggard and the Strangers' Someday We'll Look Back. I didn't ask how much he spent, but I'm sure it wasn't more than a couple of bucks per record. That's what's so wonderful about vinyl: Experiment all you want for next to nothing. Stephen also bought Burl Ives' Burl. (For this album's connection to guitarist John Fahey, of all people, read SM's blog about our visit.)
Michael Lavorgna scored the big haul at the Record Exchange: Lee Morgan, Paul Bley, Jackie McLean, Richie Havens, Sun Ra, Mal Waldron, Lightnin' Hopkins, Otis Spann, and . . . and . . . For what is a man profited, if he shall depart PREX without his just desserts? I thought, looking down at the Monk and Mingus LPs I'd purchased.
We dropped Stephen at Princeton Junction train station, as planned, waved buh-bye to Michael (who returned to PREX, damn his eyes), boarded the Edge, and began to rack up miles. I drove. John set up the voice-activated navigation system for the 834 miles to the University of the South. "Navigation; Tennessee; Sewanee; University of the South; er . . . wait a minute . . .735 University Avenue; fastest route; thank you."