Rappin' Up in a Down Year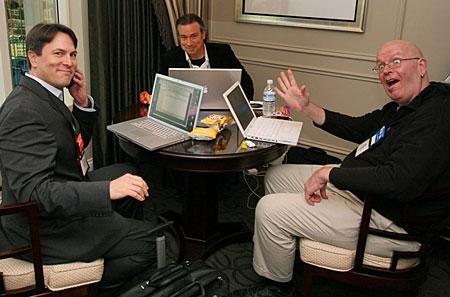 At the end of every CES, we struggle to find the underlying themes that bind the show to the industry and the world at large. The overwhelming theme this year was the economy. Attendance was down—the official estimate was 10% off of last year's, but everyone I spoke with snorted in derision at that figure.
How down was it? Halls were navigable, even on Saturday, the busiest day. Taxis queues were less than 10 minutes, down from up to an hour last year. And, while restaurants were crowded, I saw one manufacturer book at table for six at the wildly popular Bouchon for Saturday night on Friday night. No, it wasn't a "normal" year.
So who didn't come to CES this year? Many dealers, especially dealers who weren't shopping for anchor lines. Buying one to show and one to go is an expensive proposition and any dealer who felt comfortable with his product mix either stayed home or flew in for one day. The attendance at the LVCC was down too—the collapse of the big box A/V retail chains meant that most of that sector wasn't so much looking for more stuff but rather for ways to offload the inventory on hand.
Even the big Japanese A/V companies were low-key this year. Kalman Rubinson, who attended the Wednesday press conferences, said that each presentation basically consisted of "Here's a TV, here's another TV, here's another....
There was very little "affordable" high-end gear this year. There will always be some, of course, but the ratio of bang-for-the-buck products to ultra-high-end gear was skewed this year. The reason? Ordinary people aren't buying audio because they are concerned about other things right now—how much less the value of their house is than their mortgage, their existing credit card debt, or even if they are going to have a house to keep all their stuff in.
This is not a trend that began in September 2008, it has been going for at least two years and the manufacturers are hewing to a tried and true principle: If they ain't buying it, don't make it.
I spoke to one manufacturer who specializes exclusively in gear under $2k and he said he had no Christmas bump this year—that not only were his YTD sales down 30% in 2008, but the buying season resembled mid-summer, a traditional slow sales period.
On the other hand, I spoke to a loudspeaker manufacturer who was marveling that sales of his $80,000/pair flagships went up by 40% in the months since September. Asked why he thought that was, he reflected for a minute and said, "The people who can afford $100,000 for a pair of loudspeakers aren't effected by the economy the way you and I are—they have money enough to be comfortable. But all of the things they traditionally acquire are money-losing propositions right now. Buy property and you'll take a loss. Buy stocks, ditto. Invest in the market and you'll probably eventually make money, but it's a nerve-wracking proposition. So the answer is to buy stuff that makes you happy."
He reflected a minute and added, "Heck, in this market, if you hang onto the cash, you lose money."
I spoke to several DC economists (one at the World Bank, one retired) about that reasoning and one responded, "Given the interest rates on Treasuries, there is really no opportunity cost for cash-rich rich-folks to buy luxury consumer goods."
You can't blame manufacturers for focusing on where the sales are. Keeping their employees working is good for all of us.
That doesn't mean we're happy about the status quo, but railing against it is futile. We just report on what we see—and we hope to see a resurgence of affordable high-end soon.
On a happier note, this was the year that the high-end really embraced the computer as a source. Ayre, Music Hall, Chord, Esoteric, Wadia, and High Resolution Technologies. Bel Canto offered a USB to 24/96 D to D link, while Weiss went its own way with a FireWire DAC. Peachtree Audio offered a DAC input on it Nova integrated amplifier, as did Simaudio (as an optional module) on its Moon i3.3.
High-end music servers are a growing category. Sooloos's merger with Meridian has already borne fruit and Qsonix and Soneteer continue to refine this category. Blue Smoke brought us the Black Box, an all out attack on the computer's weaknesses as an audio source.
If that's not what the High End is all about, I don't know what is. Jon Iverson likes to say that the mass market creates the demand and then the High End perfects the paradigm. That's precisely what these companies are doing—and it shows that there's health in high-fidelity despite all odds.
And that's why I am smiling in the photo (right), with Home Theater editor Shane Buettner (left) and Jon Iverson (center), webmaster for Stereophile, Home Theater, and UltimateAV.com.