I'm a big believer that you don't need to spend ridiculous amounts of money on your system to get excellent and enjoyable quality of music from your system. My Paul Speltz Anti-cables speaker cables, which sound arguably better than many, much more expensive, "high-end" speaker cables, cost me $70 for a 7 foot pair (yes, they are that good; they are also a TAS Editor's Choice for 2008).
After reading Barry Diament's very informative web site about using a bicycle inner tube as a vertical subsonic seismic low frequency filter (something which I also had discovered from a friendly audio dealer, and written about here) and some egg holders and marbles to serve as a horizonal/rotational seismic filter, I set about making my own roller-bearing isolation system.
Now, you can go buy Symposium's beautifully crafted and engineered "Rollerblocks" products starting at approx. $169 for the junior version, or you can make something that provides nearly the same functionality for about $16.50.
Buy two packages of Shepherd's 1 3/4" I.D. non-slip plastic furniture cups; these cost me a little over $7/each at Orchard Supply. They have a nice concave inner surface and a cool, sticky soft rubber bottom that keeps them in place between your turntable and it's supporting board/shelf.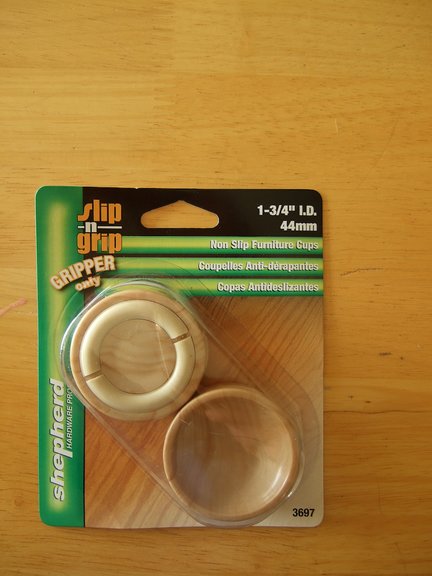 Since I couldn't find any 1/2" glass marbles, for the roller bearings, I bought a package 1/2" wooden balls at a local Michael's craft store for a budget-busting $1.19 (they were out of the $11,900 audiophile-grade ball bearings). The best ball bearing to use here would be a 1/2" steel ball bearing, preferably tungsten carbide.
Assemble the roller-cup system as shown: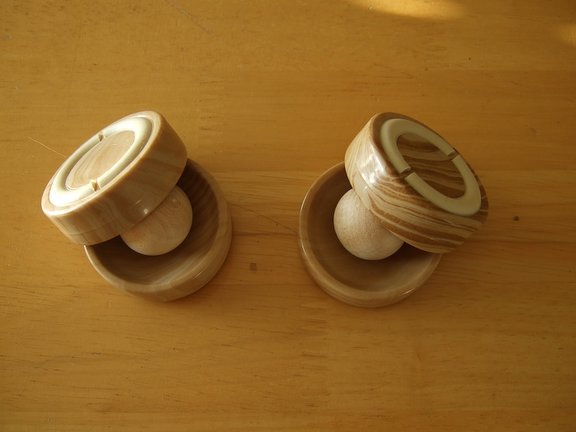 I used three assemblies under my vintage Rega Planar 3 to keep the table from "rocking". When you press on the plinth from side to side, the table will move in the horizontal or rotational plane, but quickly settle back to it's stable position. It's this ability to move horizontally and rotationally that provides the isolation from subsonic seismic resonances that can affect the quality of playback.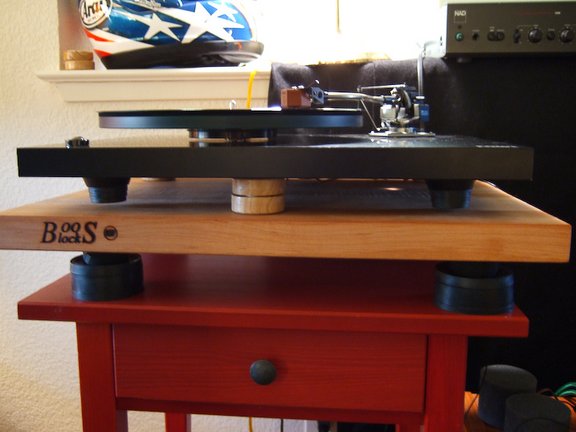 You can then place the board your turntable sits on either on an 18" bicycle inner tube or on a vertically damping set of roller blocks made up of squash balls and 2 or 3" rubber Quick-Caps, as shown (thanks to Jan Vigne for this tip). Both provide low frequency seismic isolation in the vertical plane, and much cheaper than commercially available systems made up of (audiophile-grade) squash balls.
As soon as I get some proper steel 1/2" ball bearings, I will replace the wooden balls.
Try it....my turntable has never sounded better.