MBL 6010 D preamplifier
Don't be confused by the MBL 6010 D's oddly baroque, even retro looks. Behind all the glitz—the oversize, perfectly finished, black-lacquered faáade; the two big, solid brass knobs plated with 24-karat gold; the ornate lettering; and the incongruous digital volume display—resides a thoroughly modern, remote-controlled, unusually versatile, and well-thought-out solid-state preamplifier. Not that the 6010 is a new design. It's been around for a long time, and the current "D" iteration is at least five years old.
Why review it now? Well, I'd been wowed by MBL's 101E Radialstrahler loudspeaker (October 2004, Vol.27 No.10) and Reference 9007 power amplifier (September 2006, Vol.29 No.9). I wondered if the company's processing of low-level signals would wow me a third time.
Heavy lifting
Weighing more than many power amplifiers, the 77-lb 6010 D is one impressive-looking, superbly finished preamp—as well it should be, for $23,800 without the optional balanced and phono inputs. Unfortunately, part of the high price is accounted for by the pounding the US dollar has taken against the euro. When introduced five years ago, a basic 6010 D sold for around $19,000. If you want an Audi or a Mercedes, you pay the price, knowing that while much of it is dependent on the exchange rate, nothing made in America is built quite the same, sorry to say. The same is true of the 6010 D. It exudes Teutonic perfection and, some would say, grandiosity.
So proud is MBL of the 6010 D's top-shelf build quality and fit'n'finish that they insist you reserve for it a literal top shelf on your rack. Unless you don't care about accessing the top-mounted input-level trim pots and versatile tape-monitoring features—though I'm sure you will—you'll comply. So start clearing off that top shelf!
Seeing double
The 6010 D now includes as standard what once were options: double sets of outputs, and the ability to route the selected input to either set. Each output bay includes two pairs of RCA and one pair of XLR jacks. The standard 6010 D includes two CD inputs, two tape loops, and a tuner input, plus slots for the two optional modules. There's also a Processor unity-gain bypass loop, should you wish to easily hook up the 6010 D to a home-theater system. Three phono-preamp modules are offered as options: moving-magnet ($1540), moving-coil ($2020), and a relatively inexpensive MM/MC combo ($835) that MBL admits is a "compromise." There once was a CD Direct module that bypassed everything but the volume control, but that's no longer listed as an option on the MBL website.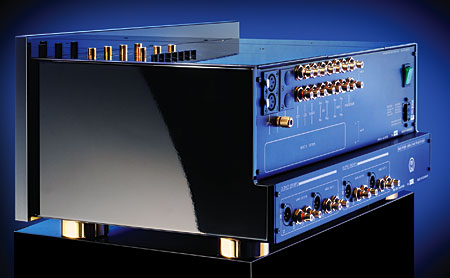 The inputs, selectable via one of the large, gold-plated knobs or the remote control, are labeled in an ornate typeface more suitable to a wedding invitation, and lined up in duplicate at the left side of the front panel: Tuner B, Tuner A, Tape 2B, Tape 2A, Opt B, Opt A, etc. Two switches on the front panel select either or both output sets, though of course only one source at a time can be routed to either or both outputs. In addition to the individual input-level trim pots mounted on the case's top, each output has its own pair of trim pots that act as global level and balance controls.
The tape-monitor selector system of top-mounted pushbuttons lets you route any input signal to either of the two Tape Out jacks, which permits independent recording and listening; for example, you can listen to a record while recording something off the radio. There's nothing new or novel about this arrangement, which used to be included on inexpensive NAD components; while very useful, especially if you're a recording fanatic, it's not that common anymore.
What's inside
Removing the 6010 D's three top plates revealed a volume of empty space that was surprising, given the preamp's heft. That space isn't necessarily wasted, but permits optimal placement of various components. The power supply, for instance, is in the bottom left rear corner, far away from the input section and thus well away from the actual signal path. It includes separate toroidal power transformers for the analog and control sections, these mechanically and electrically isolated and shielded with mu metal. Tucked into the same corner, far from the signal path, are a mains filter, a high-speed voltage regulator, and other power-supply components, all mounted on a series of circuit boards.
Volume is indicated by a blue fluorescent display in the center of the front panel. The volume control is a hefty but traditional potentiometer, of high quality and encased in metal, that MBL claims tracks at better than 0.8% accuracy between channels. While good, that spec isn't up to the accuracy of some more technologically advanced volume controls found in preamps of more recent design. The 6010 D's product description doesn't say how the inputs are switched.
The dual-mono input module, tucked under the top plate and soldered directly to the chassis-mounted input jacks to keep signal paths short, contains all input-stage electronics. The CD inputs are direct-coupled, as is the 6010 D's output, which means that there are no capacitors in either of the CD-input signal paths. Because the product description specifies direct coupling of only the CD inputs, it's safe to assume—and the 6010 D's published specs confirm—that the tuner and tape-monitor inputs are capacitor-coupled. Theoretically, the best sound should be obtained through the CD inputs, whose claimed frequency range is an astonishing DC–1MHz.
The 6010 D's weight is more a function of its rigid, high-mass chassis than of anything found inside it. The power supply looks reasonably robust but relatively modest in scale size, at least compared to the outboard supplies included with, say, the Balanced Audio Technology Rex or the Musical Fidelity kWP. Otherwise, the MBL's internal build quality—high-quality circuit boards populated with high-quality parts—is commensurate with that of its exterior.
Given that the 6010 D's primary inputs are single-ended, it's more than likely that the preamp is not a true dual-differential balanced design. If it is, the benefits might be fully realized only by using the single optional balanced input fitted with XLR jacks.