Listening #21
"How could there be a bad song called 'Iron Man,' or 'War Pigs,' or—my cup runneth over—'Rat Salad'?"—
Nick Hornby, explaining his youthful fondness for Black Sabbath
Nothing says "Let's fall in love" like a few roses and a card for no reason. Nothing says "I drink too much" like a scab on the forehead. And nothing says "Let's start a fight" quite like a list.
I don't actually like to fight, but I do like lists. Maybe it's because I'm superficial by nature, or because, at age 50, I have too much useless information littering my brainpan—and so I'm forever on the lookout for ways to set it free, a little at a time. (My wife was utterly horrified two nights ago when she overheard me explaining to our six-year-old daughter how Superman came into being, during which fatherly lecture I rattled off the correct names of his relatives back on the planet Krypton. Before retiring to the bedroom, she addressed me as "Artie-El," and not at all pleasantly.) I should also say that, because I tend to travel by car and not by air, I enjoy passing the time with my driving companions by making up and comparing lists. Such as The ten best meals you've ever had. Or The most consistently good songwriters of our time. Or The most overpraised film directors. Or...
The ten pop songs most likely to be heard during a person's first day in Hell
1) "Fifty Ways to Leave your Lover"
2) "Bungle in the Jungle"
3) "Bicycle Races"
4) "Luka"
5) "The Ballad of the Green Berets"
6) "Abraham, Martin, and John"
7) "Sussudio"
8) "My Ding-A-Ling"
9) "Ma, He's Makin' Eyes at Me"
10) "The Bear Went Over the Mountain"
All of these titles are sufficiently well known that I needn't list their writers or performers—which will vary in relative importance, anyway, depending on whether the selection is badly written, badly performed, or both.
On more or less the same note, I also feel compelled to share my list of...
The ten most critically overrated pop albums of all time
1) Eliza Carthy: Angels & Cigarettes
2) John Lennon and Yoko Ono: Double Fantasy
3) Lou Reed: Berlin
4) Patti Smith: Horses
5) Bob Dylan: Desire
6) Lou Reed: The Raven
7) Robbie Robertson: Robbie Robertson
8) Bruce Springsteen: Greetings from Asbury Park, N.J.
9) Michael Jackson: Thriller
10) Alanis Morissette: Jagged Little Pill
Note that I didn't say The ten worst pop albums, ever (although Lou Reed's The Raven could compete gamely in that event), but rather The most critically overrated—which is to say, records that, for one reason or another, have been wrongly praised by critics. People like me. People with glasses and patchy beards.
So then, from the top: Even overwrought, radio-conscious arrangements can't hide the wretchedly off-key singing on Eliza Carthy's debut, but because Eliza wrote angry songs about the way boys treat her, the critics fell all over it. Double Fantasy was praised for more benevolent reasons: It was John, and we all wanted it to be good. But it wasn't—it was mush. Lou Reed's canonization by some critics continues to mystify. That he's from New York probably helped, as did his purported flirtations with needle drugs and bisexuality. But don't hate Berlin just for that: Hate Berlin for containing couplets like, "Just like poison in a vial / hey, she was often very vile." Oh, dear.
Patti Smith's Horses opens with the most pretentious, unintentionally funny utterance since Jim Morrison was crowned King of the Lizards or whatever the hell he was, and the music goes downhill from there, caterwauled and hiccupped badly. Desire is a diffuse collection of Dylan's weakest material, and although it might once have been true that Dylan's worst was better than most people's best, it no longer was by the time this turkey came out of the oven.
Given that Lou Reed looks more like Jerry Lewis every year, The Raven may in fact be a brilliant album—but a brilliant comedy album. There's no other way to explain lyrics like: "These are the stories of Edgar Allen Poe / not exactly the boy next door / he'll tell you tales that'll warp your mind / if you haven't heard of him you must be dead or blind." Now imagine those lines performed by someone who sings the way Frankenstein's monster walks: with a sort of frantic stiffness that's scary only the first time.
Robbie Robertson is a tuneless, self-absorbed, overcooked thing that tosses no water at all on conjecture that the other members of The Band contributed to the writing of the group's finest songs, but were denied credit and recompense. Bruce's debut is wordy, one-note twaddle. (Of course I bow in admiration of the man's electrifying live performances, and although his records were never to my taste—the only operatic music I really enjoy is opera—I admit that his palette broadened somewhat over the years.)
Thriller is mere product, no more or less inspired than, say, an especially stirring Super Bowl halftime show. And Jagged Little Pill is interesting only if you're a young woman of comfortable means with a shoebox full of "poetry," or have an academic interest in same. That Ms. Morissette's screams are not unlike those heard from Olive Oyl when slung over Bluto's shoulder does not help matters.
All right, then—here's something more pleasant...
The ten greatest obscure pop albums of all time
1) Big Star: Radio City
2) Pearls Before Swine: One Nation Underground
3) John Cale: Paris 1919
4) Bob Dylan: The Genuine Basement Tapes, Vol.V (bootleg)
5) The Move: Split Ends
6) Fairport Convention: Babbacombe Lee
7) Donovan: Open Road
8) Big Dipper: Craps
9) The Dictators: The Dictators Go Girl Crazy
10) Martin Newell: The Greatest Living Englishman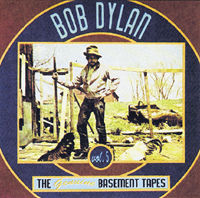 Come back, critics—all is forgiven: Every good thing you've said about Big Star is true, and Radio City was their finest hour. Pearls Before Swine's One Nation Underground is smart and playful: a real period piece, but in an endearing way. The moody Paris 1919 is unlike Cale's other albums—he more or less disowned it, telling an interviewer he didn't want to keep making "Procol Harum records" the rest of his life—but it stands above the rest. If you can find the multivolume The Genuine Basement Tapes collection but can't afford the whole set (average price: $150), settle for bringing home Vol.V, a collection of boozy performances of non-Dylan songs. It's fun, moving, and provides ample evidence for the notion that Dylan's brilliance as a writer comes from knowing what works.
The compilation Split Ends combines most of the Move's indispensable Message from the Country with their superb final singles. Fairport Convention's 1971 concept album, Babbacombe Lee, proved that the group had more going for it than just Richard Thompson and Sandy Denny. Open Road was Donovan Leitch's most muscular effort: 12 very good songs performed in an offhand, first-take way by a real group rather than session players. Big Dipper, a sadly underrated Boston band of the late 1980s, created catchy, thrashy power pop with a wicked sense of humor, as had Handsome Dick Manitoba and the Dictators before them. And Martin Newell's The Greatest Living Englishman is one of the few pop records of any era that has me reaching for the word genius.