Stories for the Ages, Too
Tris McCall has some trouble getting a hold of Joanna Newsom. Apparently, he's not the only one. Photo: Annabel Mehran
Friend and neighbor, Tris McCall, reviewed Joanna Newsom's massive three-disc set, Have One On Me. It's a very good read, and I hope you'll take the time to enjoy it. When I reached the end of Tris' review, I felt like I should stand up and applaud. Funny: The same thing happens when I get to the end of Newsom's album.
Here's a little bit of Tris' review:
Have One On Me isn't the first album to blame sociobiology for the breakdown of a relationship; what's different here is that Newsom herself doesn't seem to be complaining. Rueful and heartbroken she is, but she's also resigned to the ferocious order of the jungle; an order that is upset by the romantic affectations of a boyfriend who is, in any case, unable to transcend his own animal nature. She's something that sprung up in the dirt, "rich as roe," of Nevada City; she'll be in her hometown for good, she reminds us on "Autumn," and the California state line is the border of her heart.
Later on, Tris mentions having some difficulty with understanding Newsom's lyrics through the mix. This is odd. Tris is a terrific listener, and I haven't had any trouble hearing Joanna, which makes me wonder if the problem has anything to do with Tris' stereo system. I need to invite him over so we can listen together, in hi-fi.
<!- ---------------------FIXED AD------------------------------->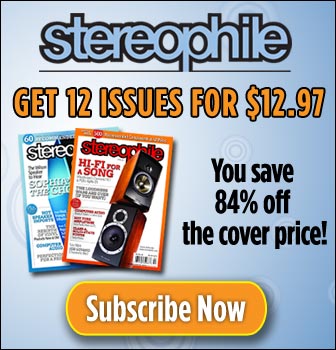 Site Map / Direct Links