Spring Fever at Stereo Exchange
Wednesday's Spring Fever event at Stereo Exchange was outstanding, and exactly the kind of thing our little high end hi-fi hobby needs. To celebrate the Exchange's 25th anniversary, store owner Dave Wasserman opened his doors, somewhat timidly, to a large crowd of enthusiastic music lovers.
"I was nervous about it at first," Wasserman confessed, "but seeing how it's turned out, with all these people having a great time, I'm really happy about it."
"We're trying to convince him to have more of these things," Specialty Sound and Vision's Chris Chiarella told me. "He's shy about it, but it's his twenty-fifth anniversary and he should celebrate!"
Totem's Vince Bruzzese agreed: "You know, Dave is the godfather of New York City hi-fi. He really is. And it's just great to see this sort of jovial, enthusiastic crowd here today. This has been one of the best hi-fi events I can recall."
Indeed, there were smiles all around and the atmosphere was warm and comfortable. Delicious food and a great selection of drinks were available to all, while several manufacturer representatives gave valuable demonstrations in each of the Stereo Exchange's sound rooms and alcoves.
There was something for every audiophile. As Meridian's Ryan Donaher discussed the fine points of building a cost-no-object system with his "Theater of the Gods" demo, Sumiko's Patrick Butler put together an "Apartment Dweller's Dream," based around the room-friendly Concert Grand loudspeakers. And while Sooloos's Rob Darling demonstrated his attractive music server system, Stereophile's Mikey Fremer gave a seminar on turntable setup.
Plus: Totem's Vince Bruzzese brought us "Invisible Home Theater" with his company's new Tribe in-wall and in-ceiling speakers; Hank Eisengrein of Universal Remote had a single intelligent remote to control every system in your home; David Solomon of Peachtree Audio and Bill Peugh of Sumiko teamed up to bring us "Hi-Tech Meets High End," with the all-new Nova USB DAC/integrated amplifier driving the Sonus Faber Liutos; McIntosh's Ken Zelin demonstrative a massive, full-tube system; David Schultz of Transparent Audio gave us "Small System, Big Sound," with a system made of Totem Rainmaker loudspeakers and NAD electronics; and Transparent's Josh Clark gave a valuable demonstration on the art of listening.
(Sheesh! That was a lot of stuff.)
Did I mention that there were beautiful women there, too? There were! Like five or six of them! And they were really hot!
<!- ---------------------FIXED AD------------------------------->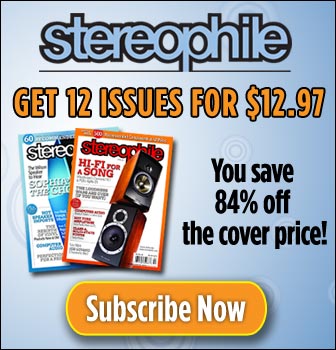 Site Map / Direct Links