Now On Newsstands: Stereophile, Vol.33 No.8
The August 2010 issue of
Stereophile
is now on newsstands. The cover, with its mellow tones, is one of my favorites. To a greater degree than any other cover we've released, this one got a buzz going around the office. People would walk by and say nice things. I hope the cover works the same magic for people browsing the newsstands.
The cute Gradient Helsinki lends itself to elegance and simplicity. But did Art enjoy his time spent living with it?
Some think yes, some think no. I would guess a bit of both. Art had an extremely tough time finding the places in his room where the Helsinkis worked best, but, once he did, he adored their unique sense of spaciousness and fine melodic flow. Ultimately, he recommended them for the audiophile who owns a taste for hi-fi adventure. Is that you?
The August issue opens with an interesting idea from John Marks: Because iTunes is free of charge, is compatible with both Macs and PCs, and handles 24-bit/96kHz digital music files, iTunes holds a strong place in the future of high-performance audio. Convinced that listeners will hear significant differences in audio quality, JM implores audio-store owners and salespeople to set up their own demos, comparing MP3s, CDs, and 24/96 audio files. Why? Because there is no substitute for the listening chair. JM:
Time and again, non-audiophile, music-loving friends have assured me that they do not have golden ears and that they cannot hear subtle differences. But when they hear the difference between MP3 and 24/96, they are shocked.
It's often true. And it echoes my feeling that, when provided all the necessary information and taught the difference between good and bad sound, people will be consistently more attracted to high-quality audio.
Speaking of turning music-lovers into audiophiles, the August issue also includes a feature on Philadelphia indie rock band, Dr. Dog, and their feelings about hi-fi. Perhaps in a reaction against the lo-fi trend of the last few years, or maybe just because people want something better, Dr. Dog and many other young, independent rock bands are becoming more and more interested in releasing high-quality recordings. (I think the vinyl revival has something to do with it: Because artists have the opportunity to release their music on vinyl, and because vinyl makes certain demands both on the artist and the listener—demands which involve a more active relationship with the music and consequently create a more focused piece of art, one to be listened to from beginning to end—it only makes sense that the artists would want that music to be conveyed appropriately, at the highest possible quality.) I see a great, new trend coming along: Indie rock bands going hi-fi.
Cassie Ramone said something along those lines when I spoke to her about it in Puerto Rico. "None of us are trying to make lo-fi records," she said, passionately. Bands like the Vivian Girls and Dr. Dog and innumerable others are trying to capture a certain sound, the sound that best represents their music. If that's not hi-fi, I don't know what is.
Speaking of hi-fi, we've got a lot more of it in the August issue: Reviews of the Harbeth P3ESR minimonitor; Channel D's Pure Vinyl LP-ripping/playback program, Pure Music iTunes front-end program, Seta Model L and Seta Nano phono preamps; NAT Symmetrical Line Stage; and Etymotic Research hf2 and hf5 in-ear headphones.
In "Sam's Space," Sam talks about paring down to the essentials and discovers a suitably small, lightweight, low-powered amp in the MiniWatt N3. Michael Fremer would chortle his snidest chortle. In "Analog Corner," Mikey collects more stuff for his mancave: The Lyra Delos and ZYX R-1000 Sigma 2 phono cartridges, Silver Circle Audio's Pure Power One 5.0 isolation transformer, and some sassy computer speakers from Italian company AUX.
In the "Fifth Element," John Marks takes a break from the gear in order to focus on the music. He offers another write-in competition: "The Mystic Chords of Memory." What are the five tracks or albums that, for you, most strongly strike the mystic chords of memory? You know: The songs that make you laugh, make you cry, make you shake your head in shame over thinking that she could have ever loved you back. Those songs. The songs that bring to mind her voice, illuminate her eyes, recall the scent of her skin, take you back to that time in the backyard at Madame X on Houston with the heat and the light and the fountain. The songs you have to play loud or not at all, the songs that you can hardly stand to hear so deep are their sinking hooks. Send your list to us at stletters@sorc.com.
Speaking of memories, we've made a lot of good ones at John DeVore's Monkeyhaus. In "Listening," Art Dudley describes his experience at the DeVore Fidelity sound room, where we listened to music, laughed, told stories, and felt very much at home, surrounded by friends and vinyl records. As Art explains, the Monkeyhaus is a place, and it is also an event. You can go to the Monkeyhaus, but you can also take part in the Monkeyhaus. You can even hold your own Monkeyhaus. More: You are encouraged to do so. All you need is a hi-fi, some great music, and some good friends. (Refreshments are appreciated. Typically, at John DeVore's Monkeyhaus, these consist of banana chips, wasabi peas, mixed nuts, popcorn, pizza, and beer.)
You might want to build your Monkeyhaus around a theme. You can throw a Vinyl Rules Monkeyhaus, a 45 Monkeyhaus, a 78 Monkeyhaus, a Cassette Monkeyhaus, a Push-Pull Monkeyhaus, a Sindle-Ended Triode Monkeyhaus, a Monkeyhaus in Honor of the Slinky Summer Dress, or even a Movie Monkeyhaus. The particular Monkeyhaus described by Art Dudley was a Monkeyhaus-O-Phile, intended primarily to introduce Sam Tellig to the home of the Gibbon 3XL, which he reviewed in the June 2010 issue of Stereophile. Unfortunately, Sam couldn't be there, but several other Stereophile friends and contributors showed up, including John Atkinson, Michael Fremer, Jeff Wong, Michael Lavorgna, and Steve Guttenberg.
To learn more about the Monkeyhaus, visit its new dedicated website or become a fan at Facebook. Be sure to also visit Michael Lavorgna's extremely entertaining and interesting blog, Twittering Machines, where many of the most recent Monkeyhaus events have been documented. If you do decide to throw your own Monkeyhaus, feel free to tell the Hauskeeper, John DeVore, about it by writing to hauskeeper@monkeyhaus.net. Send him a report of the fun, including images and a list of the records you played, the drinks you enjoyed, the memories you made.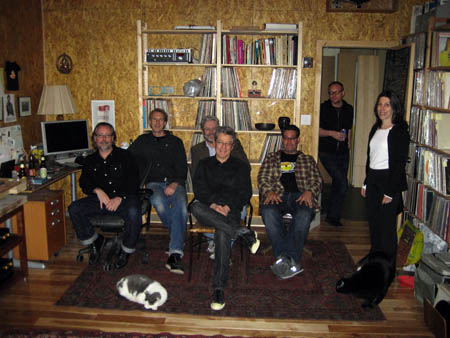 Photo by Jeff Wong
<!- ---------------------FIXED AD------------------------------->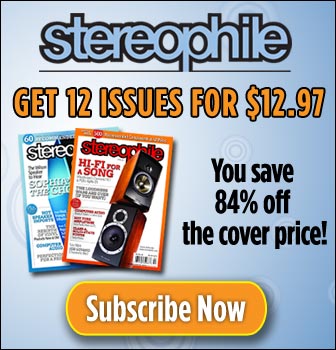 Site Map / Direct Links