Monkeyhaus: Ottawa (Ohio!)
The system: An Integra disc player, Pro-Ject Debut III turntable, Cambridge Audio Azur 540A integrated amplifier, and Bellari VP129 phono preamp.
I didn't even know there was an Ottawa in Ohio. But there is. Turns out to be a village in the northwest section of the state, about 155 miles west of Cleveland. The Mayor is Kenneth A. Maag, and in 2009, the village celebrated its 175th anniversary. Can you believe that? The Village of Ottawa has a population of 4,367, and among them are at least two music lovers.
Joe from Ottawa, Ohio, writes:
I always enjoy reading your blog about your musical experiences, especially about Monkeyhaus. Attached are some pictures of my 2-year old son, Townes, enjoying music and hi-fi in our listening room.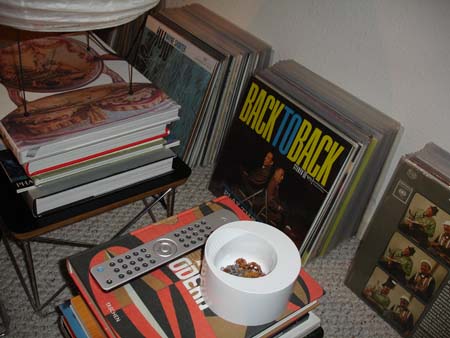 Duke Ellington and Johnny Hodges play the blues.

Great music and great art seem to go together often. Joe says, "The art is just some of my scribbling that I like to do from time to time." Pretty nice scribbles!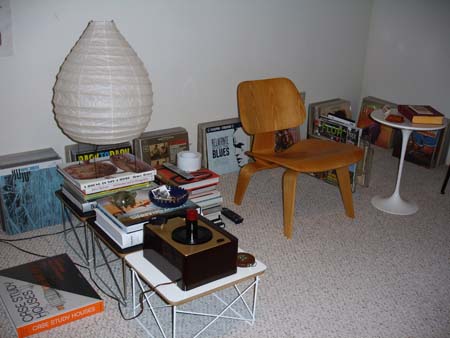 Joe's got good taste in chairs, too.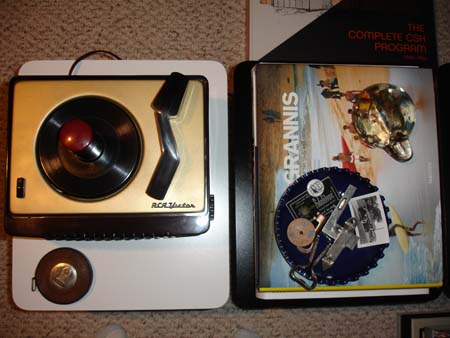 Gears and gear.

Wall of icons.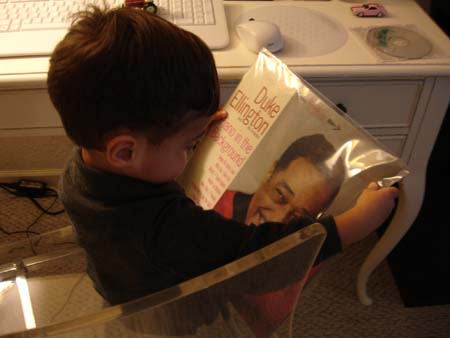 Townes considers Duke Ellington's Piano in the Background. Joe says, "The Duke Ellington LP and many others was given to me by my great uncle, whose wife worked at Columbia Records during the 1960's in Terre Haute Indiana. I still get a wonderfully warm and exciting feeling with the memory of feasting my eyes and ears on his record collection years ago."

Something tells me Townes is already a music lover. He's clearly living the jazz life.
Site Map / Direct Links