Complaint Choirs
One of my very favorite television shows is
Sunday Morning
on CBS. I look forward to it all week long, and when I wake on Sunday mornings, it's the first thing that comes to mind. I usually wake with just enough time to brew a pot of coffee and get comfortable in front of the television.
There's Charles Osgood with his familiar voice and stylish bow ties, there's the welcoming theme song played by Wynton Marsalis on piccolo trumpet, there are all the many different smiling and thoughtful sun images. In snappy, playful segments spoken and sung by a colorful cast of correspondents, the show covers current events, trends, art, leisure, culture, technology, literature, music, movies, and more. Each episode ends with a short nature scene—reindeer grazing about their Norway home, for instance—uninterrupted and silent, except for the sounds of wind and life. My Sunday morning is a cup of coffee, a good show, and nothing else to do. It's a quality experience, and I enjoy every moment of it.
I've been meaning to share with you: A few Sundays back, they did a segment on "complaint choirs." Large groups of people get together and sing their gripes, whatever they may be. I want my money back / My job is like a cul-de-sac / And the bus is too infrequent at 6:30... The first complaint choir was started in Birmingham, England, where there is much to complain about, but now the choirs exist all over the world. Complaining is, after all, universal. Composers collect complaints from people in their city, and put those complaints to music.
So, I'm thinking the next Cantus album should be a bunch of audiophile complaint songs. My amp is driving me out of my mind / That test is null because it wasn't double-blind / And nobody knows how to listen...
I think this can work.
<!- ---------------------FIXED AD------------------------------->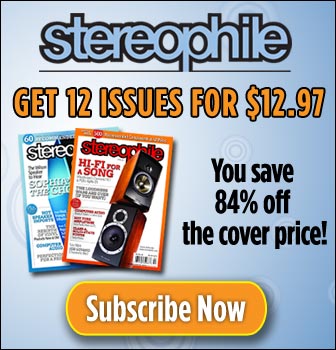 Site Map / Direct Links