Poor Rejection
Good morning. It's just about 11:30am, and I've received three calls from a reader — let us say his name is... Rich — who is interested in purchasing the $43,000, four-box, Zanden CD player reviewed in our November issue. I reckon, from the information Rich provided, that he is interested in the Zanden simply because we refer to it as "The World's Most Expensive CD Player."
And I'm all like "Wow." Don't you realize, Rich, that
"World's Most Expensive CD Player"
isn't really a compliment?
Rich, did you read the review? Did you get to that part where JA writes
In many respects — its poor rejection of word-clock jitter, its nonflat response, its nonlinearity at low frequencies, its lack of ultrasonic image rejection, its higher-than-usual noise floor — it is the worst-measuring digital product I have ever encountered.
???
Because, Rich, I would think that'd be an important bit of info when actually considering dropping $43,000. No?
Rich, my man, I have student loans to pay off. I've got credit card debt eating away at me. I haven't bought a new pair of shoes in years. Rich, if I wrote "The World's Most Expensive CD Player" on my forehead, would you give that money to me? C'mon, man.
Please? Think about it.
<!- ---------------------FIXED AD------------------------------->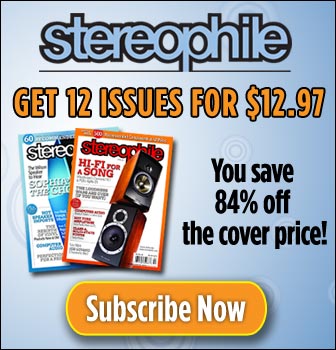 Site Map / Direct Links